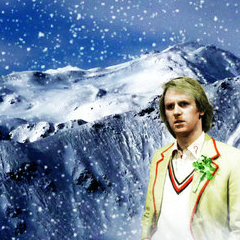 I ran the third and final session of the adventure Ice from the Eighth Doctor Sourcebook at the weekend. I think I could have finished this in two four-hour sessions, but we had more of a social thing going on and the focus wasn't quite there. At a pinch, I think you could throttle this up to run in a single session or at a convention, but you would need to keep all the action tight.
On top of that, you would need to be really sharp in hitting the beats associated with building the threat. The ultimate secret of the icebound alien colony doesn't work so well unless you have done ground work on the back story. I think, despite having three sessions to run it over, I failed to do enough of that very ground work. Ah well – lessons learned.
Overall, I enjoyed running the adventure – though I found myself increasingly improvising and casting the system to one side. I have to say that has everything to do with me and nothing to do with the Vortex system. When I want to get a game to a conclusion, the system goes out the window. Yes, the players still roll dice – because many of them enjoy that part of the process – but the nitty-gritty mechanics don't trouble me.
I liked the way the characters starting to do their own improvisation around the situation. When they realised that they didn't have an easy escape route, they used some fast talking and deception to find an alternative. The adventure has a traditional aspect of putting the TARDIS off-limits early on, so Tegan and Nyssa found a way to get it back – and then I threw the big threat in their way. Panic ensued, followed by the sonorous tones of the Cloister Bell. Yes, you have the TARDIS back; no, it won't budge because the time rotor is making all the wrong sounds.
I enjoyed running the game and all the players go involved for the final session (after some patchy player participation in earlier sessions). The final showdown had just the right level of cricket involved (it was the Fifth Doctor!) and a final-final scene with a touch of Flash Gordon about it. Did the villian die or did he simply slip away to return another day?